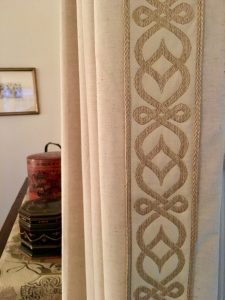 It's in the details that we see the layered precision of good design.  This graceful Celtic knot trim from Samuel & Sons adds a beautiful layer of detail to these simple Belgian linen panels.  The neutral color palette adds a subtle edge of contrast to the drapery, summoning a light, graceful feeling.
Depending on the room (and it's inhabitants) sometimes a much stronger detail is required.  In that case, a bold tape of contrasting trim will be more appropriate to offset the curtains.
Details like this are often small, but it's the layering of these details that bring a warmth and satisfaction to the design of a room.
SaveSave
SaveSave
SaveSave
SaveSave